Time
Tuesday June 9
Wednesday June 10
Thursday June 11
8.30
Registration and coffee
Registration and coffee
Registration and coffee
8.50
Opening Session


Katja Grillner
Lars Marcus

Paper Sessions:

4x3

Paper Sessions:

4x3

9.50
Break
Break
Break
10.00
Key Note Speaker:

Bill Hillier

Key Note Speaker:

Apostolos Georgopoulos

Key Note Speaker:

Chris Webster

11.00
COFFEE
COFFEE
COFFEE
11.30
Paper Sessions
4x3
Paper Sessions
4x3
Paper Sessions
4x3
12.30
LUNCH




LUNCH




LUNCH
13.00:Software Session
13:00 Poster Session
14.00
Parellel Thematic Seminars

U1 Accessibility 
Mike Batty

A1 Offices
Joyce Bromberg

Parellel Thematic Seminars

U2 Segregation
Martina Löw

A2 The Building in the Urban Fabric
Kayvan Karimi

Paper Sessions
4x4
15.30
COFFEE
COFFEE
COFFEE
16.00
Paper Sessions
4x4
Paper Sessions
4x4
Parallel Panel Discussions

U3 and A3

Closing Session
.
17.15

Guided City Walks

18.00

Reception at City Hall

19.00

Conference Dinner

.
.
.
.
8 June: Public Event
The symposium will start with a special event, a half-day open for both symposium participants and practitioners in the field, focusing on the importance of space syntax for architectural practice. Cutting edge examples from practice will be presented as well as reflections on the subject from invited guests. Invited speaker from the side of practice is Bjarke Ingels (BIG) and from the side of theory is Bill Hillier (University College London).
The day will have the most complex architectural project in Stockholm as point of departure: Slussen, which has been subject to extensive space syntax analysis. The winners of the recent architectural competition for the area: Foster+Partners (UK) are invited together with other guests to partake in a debate on the future of architectural knowledge.
Key-note speakers
Key-note speakers are: Bill Hillier (University College London), Apostolos P. Georgopoulus (University of Minnesota) and Chris Webster (Cardiff University).
Presentation sessions
Since accepted papers will be possible to download before the start of the symposium, the organisers will in collaboration with the chairs of the different presentation sessions prepare these to create the best possible conditions for rewarding end discussions of the sessions.
Thematic seminar
A new form of event is the thematic seminar where central themes in space syntax are given a platform for deeper discussion and reflection. Academics from related fields with knowledge of space syntax are invited to help prepare these sessions. As preparation for these seminars they will present a paper on their view of space syntax and its relation to their own field, accessible at the web site before the symposium start. There will also be guests contributing to a constructive discussions, which will be held together with participants from the space syntax community.
Social events
Monday 8 June
Open Bar after the opening public event at Kulturhuset in the city centre.
Tuesday 9 June
Short Thematic City walks in central Stockholm guided by local architectural experts on themes as for example architectural history, architectural queer theory, economic urban development as well as portrays of important Swedish architects etc.
Wednesday 10 June



Reception at City Hall and refreshments in the Golden Hall, known from the Nobel prize dinners.
Thursday 11 June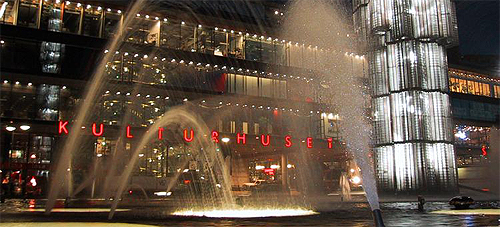 Conference dinner at Kulturhuset in the city centre